We are committed to providing you with the best possible financial services possible. We use the latest technologies and can use e-file to get your tax refunds processed quickly and easily.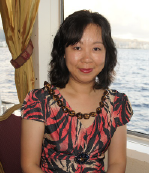 Lydia H. Wong, CPA, MBA

Success-driven, innovative, CPA with eighteen years of quantifiable accomplishments in directing and establishing accounting systems, implementing internal controls, and developing accounting policies and procedures. Recognized as an individual with excellent management and analytical skills as well as strong leadership and a record of success in developing financial strategies, identifying problems, and implementing business solutions to achieve organizational performance and profitability for fast growth companies. Demonstrated expert knowledge of Generally Accepted Accounting Principles (GAAP) through performing audits, reviews and tax returns.

Lydia earned a Bachelor's degree from University of Hawaii at Manoa. She continued her academic pursuits and earned a Master's degree in Business Administration from University of Dallas.
Lydia is active in a number of professional organizations including the Texas Society of Certified Public Accountants, the American Institute of Certified Public Accountants, and the California CPA Society. Lydia treats every client with respect and integrity. Lydia provides independent financial consulting and new entity formation in addition to tax and accounting services.



Lydia H. Wong, CPA, Inc.
7131 Colleyville Blvd., Suite 103
Colleyville, Texas 76034
(682) 651-8882
Fax (214) 291-2530
cpa@lydiawongcpa.com